Mike Scotti is the co-producer, narrator and subject of the award winning documentary film SEVERE CLEAR, and also a recipient of the Fort Lee Film Commission's Lewis J. Selznick Award for filmmaking.
SEVERE CLEAR is a motion picture that captures the chaos and complexity of war. As a first-person narrative, it tells Mike's story and features video footage shot by him and other members of 1st Battalion, 4th Marines on the outset of the 2003 invasion of Iraq.
Directed by Kristian Fraga ("Anytown, USA") and featuring a original score by Cliff Martinez ("Traffic", "Narc", "Solaris") the film offers an unflinching look at the uncertainty, disorder and chaos of war from the remarkable perspective of one Marine.  The film was awarded Special Mention for Cinematic Excellence at the 2009 International Rome Film Festival, the Jury Prize at the Salem Film Fest and the 2009 Barrymore Award.  It has enjoyed wide national and international release.   In the US, the film is distributed by Inception Media Group, and in the UK by G2/Momentum Pictures ("The King's Speech").  It is available under the title THIS IS WAR in the UK, France, Australia and Israel.
Severe Clear premiered at the Angelika Film Center in New York City, and enjoyed a limited theatrical release in the US (including at the ArcLite Cinema in Hollywood, CA and the Studio Movie Grill, Dallas and Houston, TX).  The film was also featured as part of the 2009 International Documentary Association's DocuWeeks Showcase and was an official selection at the SXSW, Big Sky, Lone Star, Palm Beach, San Diego and St. Louis Film Festivals. The film has been critically acclaimed by The New York Times, Variety, The Hollywood Reporter and IFC.com and featured on CNN, The Wall Street Journal, NPR, Newsweek, Men's Journal, Interview Magazine, Filmmaker Magazine, indieWIRE, NBC and more.
Severe Clear Movie Trailers
"This visceral, gripping doc uses footage shot in Iraq to give us a clear-eyed, brutal, but decidedly unpoliticized look at the reality of war." NEW YORK MAGAZINE
"Visceral true-life portrait of the brutality and chaos of war.  It offers a much needed personal perspective on a subject that is too often reduced to political arguments." THE HOLLYWOOD REPORTER
"At its most provocative, SEVERE CLEAR pungently evokes a heroic Marine Corps mystique." THE NEW YORK TIMES
"Most fictional films simply can't capture the immediacy of the experience the way a raw chronicle like this one does." THE DAILY NEWS

"Extraordinary.  Like THE HURT LOCKER meets PARANORMAL ACTIVITY.  Only it's real." EXAMINER
"This is the real deal. It puts you right on the front lines." JEFFREY LYONS, NBC
"instantly reminds us of Kubrick's FULL METAL JACKET…as striking as any war narrative you can imagine" EFILMCRITIC
United States Severe Clear Covers
---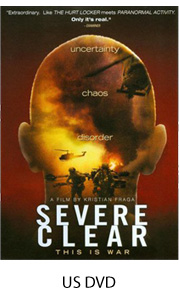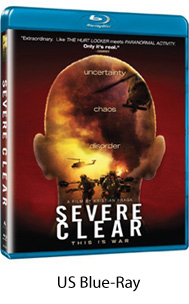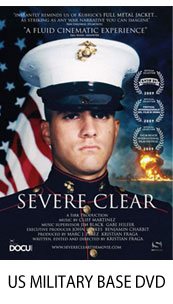 Covers of UK and French Version of Severe Clear titled "This is War"
---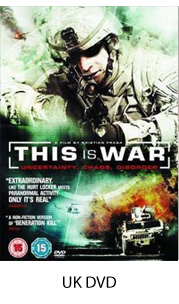 Severe Clear Soundtrack
---